A very nice review from Sonia Miles Khan on The Ripe of our show in Melbourne with the wonderful Freeform Collective. I miss you guys. It was a really magical night.
Video and gorgeous poster below.
- – -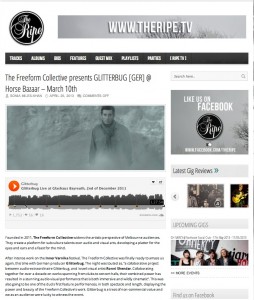 The Freeform Collective presents GLITTERBUG [GER] @ Horse Bazaar 
SONIA MILES-KHAN APRIL 25, 2013
Founded in 2011, The Freeform Collective widens the artistic perspective of Melbourne audiences. They create a platform for subculture talents over audio and visual arts, developing a platter for the eyes and ears and a feast for the mind.
After intense work on the Inner Varnika festival, The Freeform Collective was finally ready to amaze us again, this time with German producer Glitterbug. The night was touted as, "a collaborative project between audio-extraordinaire Glitterbug, and Israeli visual artist Ronni Shendar. Collaborating together for over a decade on works spanning from clubs to concert halls, their combined power has resulted in a stunning audio-visual performance that is both immersive and wildly cinematic". This was also going to be one of the duo's first feature performances, in both spectacle and length, displaying the power and beauty of the Freeform Collective's work. Glitterbug is a treat of non-commercial value and we as an audience were lucky to witness the event.
Glitterbug, a.k.a. Till Rohmann, is building a reputation for his ethereal sonic landscapes. His talent has been touted by select publications and so too has his collaboration with Shendar. While I couldn't help but agree that he is one of Germany's best-kept secrets, I wasn't convinced that he fits the mould of minimal techno as well as some may describe.
When Glitterbug takes the stage for his live mix, he starts in a very surreal and ambient place. The only thing that draws our focus is Shendar's visuals; an aquatic landscape is washed across the back walls of Horse Bazaar. They both take us on a slow journey through the sounds of sonar and real-life footage of urchins and rough, untouched underwater footage.
When the beat finally settles in, Glitterbug would remind some of the early work of his German compatriots, Booka Shade. His sounds even share a close semblance with Dusty Kid. This melodious synth work decisively places him into the house-hybrid of minimal techno, which I love. Those feeling twangs of judgement at the moniker I just inferred shouldn't baulk. His sea punk fashioned sounds journey through all aspects of the colour blue, with melancholy scales and perfect accompaniment to Shendars industrial seasides.
Glitterbug's point of difference comes through in his use of percussion. He ceases with epic stabs and lets rumbling basslines roll in. The snares begin to take up more of the mix and he has an entire channel of his mixer devoted to them at rapid-fire (which he loves to jaggedly move us with!)
By the end of these intense hours, I feel weightless against computer-tinged harmonies.
Freeform Collective Presents Glitterbug & Ronni Shendar from The Freeform Collective on Vimeo.
Freeform Collective Presents Glitterbug & Ronni Shendar at Horse Bazaar Melbourne April 19th 2013
facebook.com/pages/Glitterbug/54704144098
facebook.com/events/461323747274230/