It's an exciting time at c.sides and we are cooking up a whole lot of new things! But before we get to that we wanted to celebrate our annual winter-holiday-end-of-the-year-super-mega sale!
This year we are celebrating our 2xCD compilation: Audible Approaches For A Better Place.
We gathered 10 of our favourite artists (Gold Panda, Brandt Brauer Frick, John Kameel Farah, Jasmina Maschina, Khan, Casper Clausen & Mads Brauer (of Efterklang), Glitterbug with Enas Massalha, Christian Löffler and Eliad Wagner) for an experiment, and asked them to create music for a better, more just and beautiful place.
The result? Eclat Magazine writes "A truly magnificent aural experience, a fantastic musical experience full of harmonious beauty" , "Ambitious and deeply sentimental project" – Boomkat UK ,"The concept: simple and straightforward; the result: powerful and provocative" – Textura, "Ten wonderful snapshots" – Groove
SUPER SALE
For this year's sale, we are happy to offer Audible Approaches for a Better Place + your choice of any 2 c.sides label releases for only €20!! or you can order a copy from our entire backstock + a c.sides T-shirt, for only €40!!
GIVEAWAY
And if that's not enough, if you order by Dec. 20th, you have a chance to win one of six individual Audible Approaches frames. We will be raffling a single frame from each of the six Audible Approaches for a Better Place videos by Gold Panda, Karim Ghahwagi, Eliad Wagner, Christian Löffler, Khan and myself: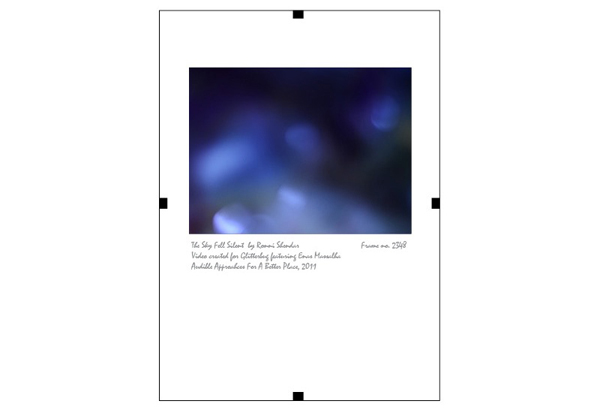 VIDEO PREMIER
As an additional gift of film director Karim Ghahwagi, EFTERKLANG and c.sides, until the end of the month The Figment Notebook will be available online in its entirety!
The Figment Notebook is a magnificent animated film created for 'Audible Approaches' by Copenhagen based artist Karim Ghahwagi in cooperation with Casper Clausen and Mads Brauer of the Danish quartet Efterklang, who also wrote and produced the music for the film. Narrated by Sara Davis, this magical ghost story/fairy tale was a true highlight at the HKW premier. We are proud and happy to finally be able to share the film with you for this limited period. Enjoy!
***
If you want to order, please send an email to info@csides.net with your address and order amount.
Shipping cost in Germany is 6,90E€ and inside the EU 16€.
For all other places around the globe, please ask us for a shipping quote.
You can pay directly via PayPal and send the payment to info@csides.net – or- transfer directly to the c.sides account:
c.sides / Shendar & Rohmann GbR
Koelner Bank
Acount No. 545102005
BLZ 371 600 87
BIC GENODED1CGN
IBAN DE11 3716 0087 0545 1020 05
Merry holidays, a happy winter and best wishes for 2012!
***********************
The full package includes:
1x c.sides001 – c.sides compilation 2006 (4xCD!)
1x c.sides002 – Glitterbug – Supershelter (1xCD)
1x c.sides003 – Glitterbug – Supershelter Excerpt 1 incl. Lawrence Remix (12" vinyl EP)
1x c.sides004 – Glitterbug – Supershelter Excerpt 2 incl. Barbara Morgenstern Remix (12" vinyl EP)
1x c.sides005 – Glitterbug – Dim Flares EP (12" vinyl EP)
1x c.sides006 – Christian Löffler – Raise EP (12" vinyl EP)
1x c.sides007 – Glitterbug – Privilege (2 x 12" vinyl LP)
1x c.sides007 – Glitterbug – Privilege (2 x CD Album)
1x c.sides008 – Varios Artists – Audible Approaches For A Better Place (2 x CD album)
1x limited edition laser cut c.sides pin
1x T-Shirt (please let us know which sizeand color and if you'd rather have a male or female cut)
The first 10 orders get 1x BCC001 – Unknown Artist – Unknown Title (but for sure one of the bootiest bootlegs you have ever heard!)
For more infos on the releases, please visit our c.sides website, the c.sides page @ Discogs, or search Glitterbug's website for reviews and articles.